ABU School Of Basic And Remedial Studies Releases 2022/2023 Admission Form; This is to advise the general public that the sale of admission application forms for the School of Basic and Remedial Studies at Ahmadu Bello University in Funtua for the academic year 2022–2023 began on Monday, February 6, 2023. The following are the instructions for acquiring the form:
HAVE YOU USED OUR JAMB TOOL YET? IT PROVIDES YOUR JAMB COMBINATION FOR FREE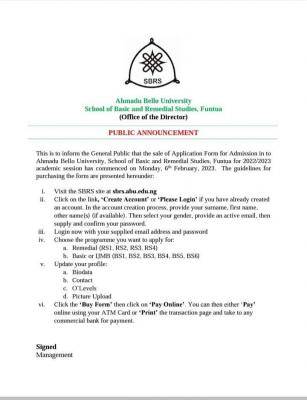 i. Visit the SBRS site at sbrs.abu.edu.ng
ii. Click on the link, 'Create Account' or 'Please Login' if you have already created an account. In the account creation process, provide your surname, first name, and other names (s) (if available). Then select your gender, give an active email, then supply and confirm your password.
iii. Login now with your supplied email address and password
iv. Choose the program you want to apply for:
a. Remedial (RS1, RS2, RS3, RS4)
b. Basic or IJMB (BS1, BS2, BS3, BS4, BS5, BS6)
v. Update your profile:
a. Biodata
b. Contact
c. O'Levels
d. Picture Upload
vi. Click the 'Buy Form' then click on "Pay Online'. You can either Pay online using your ATM Card or 'Print' the transaction page and take it to any commercial bank for payment.