ACEONDO Releases 2022/2023 NCE/Degree Admission Forms; The following candidate groups are invited by the college to pick up screening forms for post-UTME examinations:
i. Degree Programmes: UTME Candidates who scored a minimum of 200 marks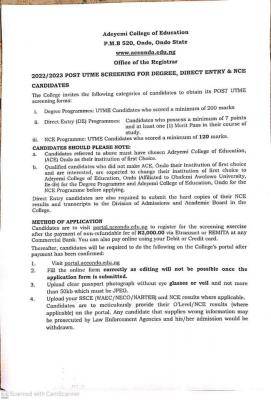 ii. Direct Entry (DE) Programmes: Candidates with a minimum of 7 points and at least one (1) Merit Pass in their course of study.
iii. NCE Programme: UTME Candidates who scored a minimum of 120 marks.
CANDIDATES SHOULD PLEASE NOTE: (ACEONDO Releases 2022/2023 NCE/Degree Admission Forms)
a) Candidates referred to above must have chosen Adeyemi College of Education, (ACE), Ondo, as their institution of first Choice.
b.For the degree program at Adeyemi College of Education, Ondo (affiliated with Obafemi Awolowo University, Ile-Ife) and the NCE program at Adeyemi College of Education, Ondo, qualified candidates who did not initially select ACE, Ondo as their institution of the first choice but are interested are expected to do so before applying.
Direct Entry candidates are also required to submit hard copies of their NCE results and transcripts to the Division of Admissions and Academic Board in the College.
METHOD OF APPLICATION
Candidates must pay a non-refundable charge of N2,000.00 by Etranzact or REMITA at any Commercial Bank before they may register for the screening exercise at portal.aceondo.edu.ng. You can also use your debit or credit card to make an online payment.
Thereafter, candidates will be required to do the following on the College's portal after payment has been confirmed:
1. Visit portal.aceondo.edu.ng
2. Fill out the online form correctly as editing will not be possible once the application form is submitted.
3. Upload clear passport photograph without eyeglasses or veil and not more than 50kb which must be JPEG.
4. Where appropriate, upload your SSCE (WAEC/NECO/NABTEB) and NCE results. Candidates must carefully enter their O'Level/NCE results on the platform (if applicable). Any candidate who gives false information could face legal action from law enforcement, and their admission could be revoked.
5. Ensure that all fields in the form are properly filled
6. Cross-check your entries properly
7. Submit your application form
8. Print out the post-UTME screening slip
9. Candidates whose O'Level Results are not ready should wait until its release before applying
10. Candidates must upload their O'Level on JAMB Central Processing System CAPS.
Candidates considered prima-facia qualified would be contacted in due course.
Candidates are recommended to include a working phone number and email address so that they can be contacted. The College disclaims all liability for failure to receive information due to incorrect or non-operational phone numbers and invalid email addresses.
DEADLINE FOR THE SUBMISSION OF FORMS
The deadline for the submission of applicants' forms which should be done online is Sunday, 29th January 2023
The following phone numbers should be used for any more questions: 0803-833-8936, 0803-465-9681, 0806-658 0030, 08035985932, and 0803-584-1342. You may also send an email to this address: admissions@aceondo.edu.ng or visit the college's website at www.accondo.edu.ng.