Aminu College of Education Azare-UNIMAID Releases 2022/2023 Degree Admission Form; For admission to its 100 and 200 level B. A. Ed and B. Sc. Ed courses for the 2022/2023 academic session, the Aminu Saleh College of Education, Azare, affiliated with the University of Maiduguri, is currently accepting applications.
HAVE YOU USED OUR JAMB TOOL YET? IT PROVIDES YOUR JAMB COMBINATION FOR FREE
The College offers the following courses: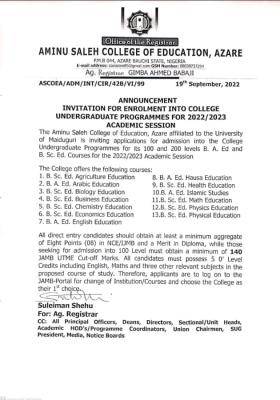 1. B. Sc. Ed. Agriculture Education
2. B. A. Ed. Arabic Education
3. B. Sc. Ed. Biology Education
4. B. Sc. Ed. Business Education
5. B. Sc. Ed. Chemistry Education
6. B. Sc. Ed. Economics Education
7. B. A. Ed. English Education
8. B. A. Ed. Hausa Education
9. B. Sc. Ed. Health Education
10.B. A. Ed. Islamic Studies
11.B. Sc. Ed. Math Education
12.B. Sc. Ed. Physics Education
13.B. Sc. Ed. Physical Education
All direct entry candidates must receive a minimum of eight points (08) overall in their NCE/IJMB scores and merit in their diploma, while applicants for admission to the 100-Level program must score at least 140 on the JAMB UTME. All applicants must have five 0′ Level credits, which must include English, math, and three other subjects that are pertinent to the proposed course of study.
As a result, candidates must access the JAMB Portal, change their institution or course of study, and select the college as their top choice. Aminu College of Education Azare-UNIMAID Releases 2022/2023 Degree Admission Form
Suleiman Shehu
For: Ag. Registrar