Blaqbonez's 'Back In Uni' Video (Nothing Comes Close); Flamboyant rapper Emeka Akumefule 'Blaqbonez' delivered a ground-breaking creative piece of art in the form of his co-directed music video for the song "Back In Uni," which features worldwide music producer JAE5. In it, he humorously imitated a variety of Afrobeats superstars.
He humorously imitates Wizkid in "Bad To Me," Ruger in "Girlfriend," Ayra Starr in "Rush," Asake in "Bandana," Oxlade in "KULOSA," Burna Boy, Portable, BNXN, and sketch creator Cater Efe.
Before the clever parody of replicating the personas of many artists, Blaqbonez gatecrashes the wedding celebration of an ex-girlfriend from the university in the first scene of the video.
As Perliks' co-director, the 26-year-old makes his directing debut.
Blaqbonez, who is well known for his hilarious demeanor, once again demonstrates his incredible talents in the imaginative video by imitating musical characters.
Blaqbonez mirrors the following Afrobeats superstars/ creative personalities:
Wizkid's 'Bad to Me' floral cover art
The opening sequence of Blaqbonez's cinematic visuals shows him gatecrashing the wedding of an ex-college girlfriend. Everyone is astonished when he grabs a flower strand from the bride's bouquet, stands with it while imitating Wizkid in "Bad to Me," and then gives it back.
A few awkward seconds later, the bride tosses her bouquet in the hopes that it will land on the person who is meant to be "next" to walk down the aisle. Instead, Blaqbonez receives the bouquet, inciting the ire of the other unmarried ladies.
Oxlade's KULOSA Performance
Blaqbonez switches from the "Bad to me" floral scene to portray a painter who is depicting a stunning woman. Unexpectedly, in a scene where he imitates Oxlade's KULOSA-One Colours Show, he also paints himself. In front of a green screen, a white ribbon microphone, and his outfit at Colors Studio, he imitates the singer's live performance and gestures of the song.
Eyeglasses, a left-hand tattoo, wrist chains, a black sleeveless leather jacket, and black pants complete Blaqbonez's appearance (chain bracelet). He chooses a grey boot instead of Oxlade's black bot with red stripes, failing to capture it.
Another amusing part shows a lady ready to cut off the ribbon microphone with a pair of scissors.
Burna Boy's photoshoot for the Dazed magazine cover
A stunning woman shows up for a photo shoot, and the cameraman captures stunning images of her. He holds a little television where he watches the woman in a pose reminiscent of Burna Boy's cover photo shoot for Dazed magazine. He has the same hairdo and long, black pants as Burna Boy.
Portable's song-writing for 'Azaman'
He mimics Portable songwriting- 'Dem go rip you' advice and his humorous 'shoulder pad' bragging as well as his clownery.
Cater-Efe comedy skit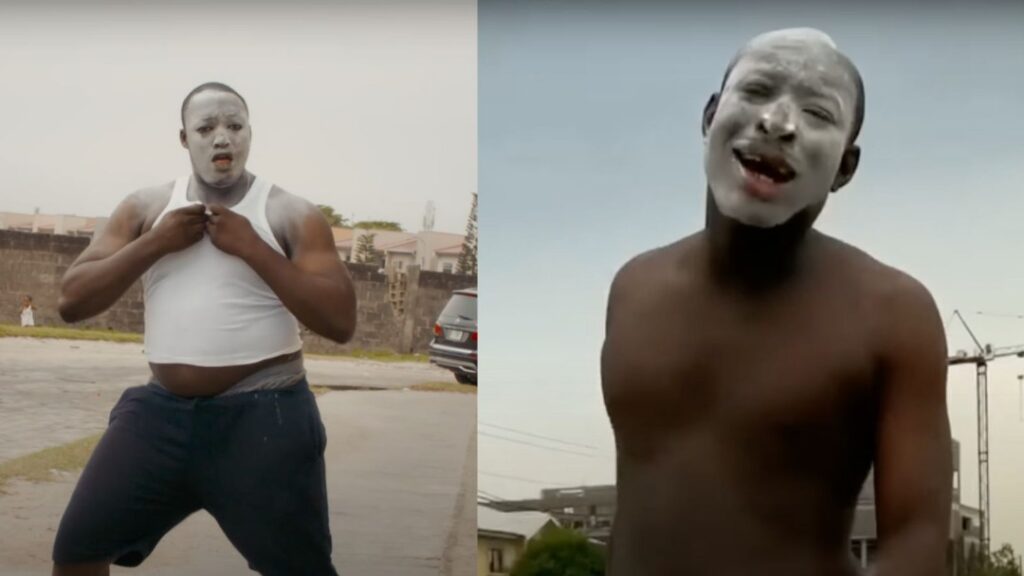 The only person he used another character to mimic was Cater Efe. Carter Efe's powder look in one of his popular comedy skits in a white singlet was mirrored quite perfectly.
Ruger's 'Girlfriend' video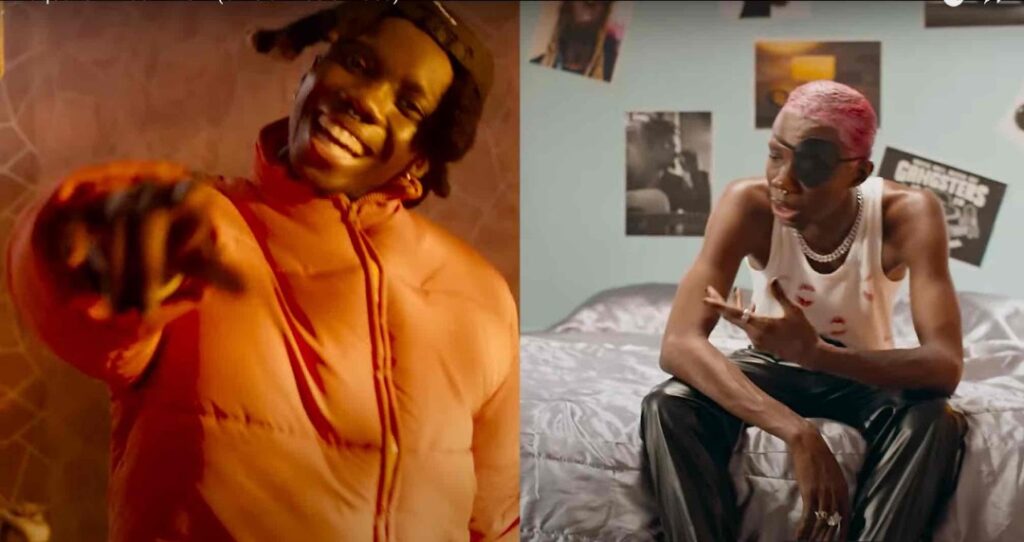 He resembles Ruger, who is well-known for his eye patch, pink hair, and white singlet with lipstick smears in the "Girlfriend" music video.
Ayra Starr's Rush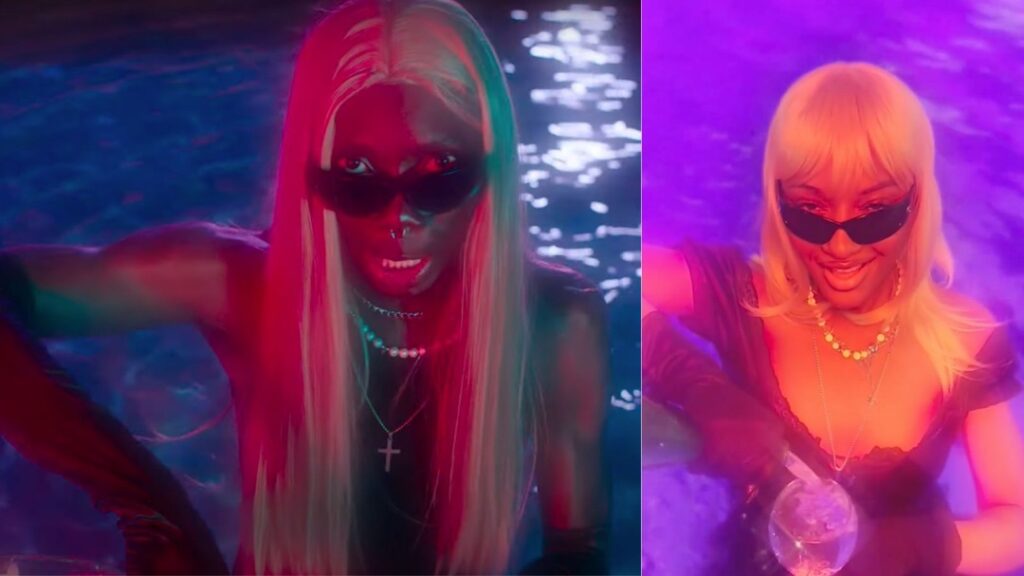 He throws excess water in a glass cup into a swimming pool while imitating Ayra Starr's blonde wig, spectacles, noserings, and chains.
Asake's Bandana scene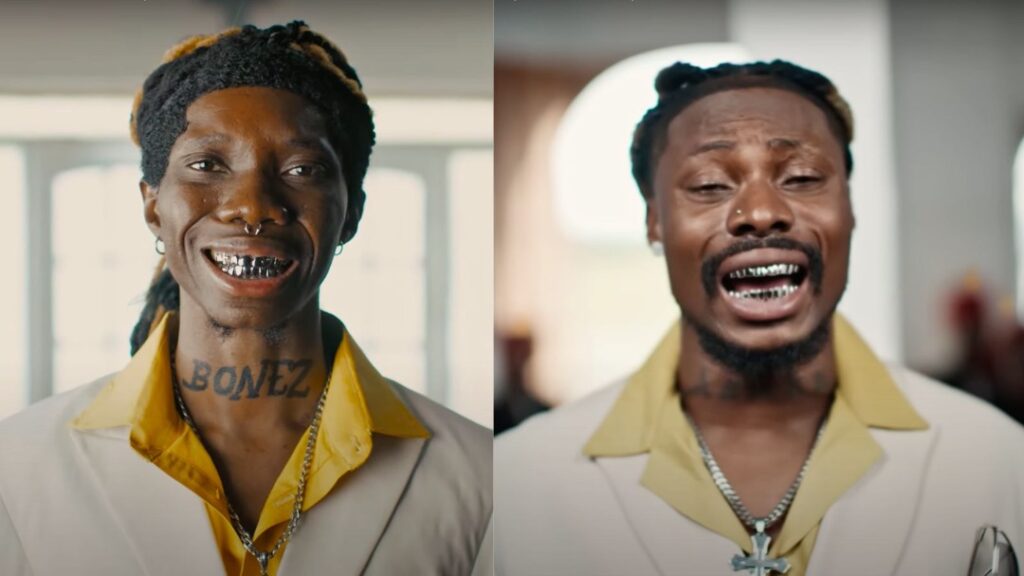 Blaqbonez mimics Asake's grills and the church scene in 'Bandana'. He walks into the church in similar attire as Asake wore in the Bandana video.
BNXN vs Ruger rift
He shares their video vixen saying at the end of the video 'You people should stop fighting, we can always share'
The song was published by the Chocolate City signee last Friday, and he recently made light of the directing procedure on social media.
After being quoted $30,000 by renowned video director TG Omori for the job, he declared his intention to handle the direction of the visuals.
One of the main tracks off Blaqbonez's upcoming sophomore studio album, "Young Preacher," is "Back In Uni."