BOUESTI Releases 2022/2023 Post-UTME Admission Form; Students who meet the admission requirements and are eligible to apply can apply now to various undergraduate programs made available by the institution.
For admission to the following Degree Programs for the 2022/2023 Academic Session, Bamidele Olumilua University of Education, Science and Technology, Ikere-Ekiti, (formerly College of Education, Ikere-Ekiti), an institution founded to offer a broad range of opportunities for the education of the total man and imbue graduates with experiential vocational and entrepreneurial skills needed for self-reliance, is accepting applications from qualified candidates.
HAVE YOU USED OUR JAMB TOOL YET? IT PROVIDES YOUR JAMB COMBINATION FOR FREE
Biological Science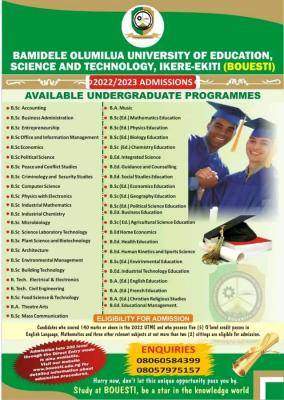 B.Sc. Science Laboratory Technology
B.Sc. Microbiology
B.Sc. Plant Science and Biotechnology
Management Science
B.Sc. Accounting
B.Sc. Business Administration
B.Sc. Office and Information Management
Media and Performing Studies
B.A. Theatre Arts
B.A. Music
B.Sc. Mass Communication
Peace and Security Studies
B.Sc. Peace and Conflict Studies
B.Sc. Criminology and Security Studies
Science Education
B.Sc. (Ed.) Mathematics Education
B.Sc. (Ed.) Physics Education
B.Sc. (Ed.) Biology Education
B.Sc. (Ed.) Chemistry Education
B. Sc. (Ed.) Integrated Science
B.Sc. (Ed.) Agricultural Science Education
Human Kinetics and Health Education
B.Sc. (Ed.) Health Education
B.Sc. (Ed.) Human Kinetics and Sport Science
Social Science Education
B.Ed. Social Studies Education
B.Sc. (Ed.) Economics Education
B.Sc. (Ed.) Geography Education
B.Sc. (Ed.) Political Science Education
Chemical Science
B.Sc. Industrial Chemistry
Language Education
Others
B.Sc. Entrepreneurship
B.Sc. Economics
B.Sc. Political Science
B.Sc. Computer Science
B.Sc. Physics with Electronics
B.Sc. Industrial Mathematics
B.Sc. ArchitectureB.Sc. Environmental Management
B.Sc. Building Technology
B. Tech, Electrical and Electronics Engineering
B. Tech. Civil Engineering
B.Sc. Food Science & Technology
B.Ed. Guidance and Counselling
B.Sc. (Ed.) Business Education
B.Sc. (Ed.) Home Economics Education
B.Sc. (Ed.) Environmental Education
B.Sc. (Ed.) Industrial Technology Education
B.A. (Ed.) Christian Religious Studies
B.Ed. Educational Management
ELIGIBILITY FOR ADMISSION
Candidates who scored 140 marks or above in the last UTME (2022) are eligible for admission. Candidates must possess five (5) O'Level Credit passes (WASC/ SSCE/ GCE or equivalent) which must include English Language, Mathematics, and three (3) other relevant subjects at not more than two sittings.
NCE, HND, ND, JUPEB, and IJMB are the required results for the "DIRECT ENTRY" Candidate.
Eligible candidates are advised to visit the JAMB portal to effect a change of institution and course (if necessary) to Bamidele Olumilua University of Education, Science and Technology, Ikere-Ekiti (BOUESTI) accordingly.
OUR UNIQUENESS
We are a vision-guided, mission-driven University located in a serene environment, safe and conducive for academic activities with an array of state-of-the-art facilities and competent staff to engender effective teaching and learning with a world of difference
IMPORTANT NOTICE TO ALL CANDIDATES SEEKING ADMISSION TO BOUESTI
This is to inform all candidates that have changed their institutions to Bamidele Olumilua University of Education Science and Technology, lkere -Ekiti that they must upload their WAEC/SSCE or its equivalent result to the JAMB Portal in order to complete their admission process.
Similarly, candidates are to ensure that the UTME subject combinations offered are relevant to the proposed course of study.
In addition, candidates should always check their JAMB Portal for an update on their Admission status and once they are admitted, they should ACCEPT the offer immediately.
HOW TO APPLY FOR BOUESTI POST UTME
Visit portal.bouesti.edu.ng
Click on Admissions
Click on Apply for Admission
Create a new account.
Supply all the required details including active email and personal telephone number.
A verification email will be sent to you
After successful signup, LOGIN to your account with the email supplied at the point of account creation as the "Username"; and enter the password provided during the signing up.
On your dashboard, select the type of application (2022/2023 POST UTME application)
Enter your UTME Registration Number
To make payment of Two thousand naira (N2000) application fee, click on "PAY NOW", you will be directed to an online payment platform
On successful payment, the Application Form will be made available to you to complete; kindly attach your passport in JPEG format. BOUESTI Releases 2022/2023 Post-UTME Admission Form