FEDCODTTEN Releases 2022/2023 Post-UTME Admission Form; This is to let the general public know that registration has started for the Federal College of Dental Technology and Therapy, Enugu (FEDCODTTEN) Post-Unified Tertiary Matriculation Examination (Post-UTME) Screening Tests. This is to inform potential applicants for the underlisted programs who must have a UTME score of 120 or higher and who listed the College as their top choice of institution on their JAMB application:
HAVE YOU USED OUR JAMB TOOL YET? IT PROVIDES YOUR JAMB COMBINATION FOR FREE
S/N FACULTY PROGRAMME: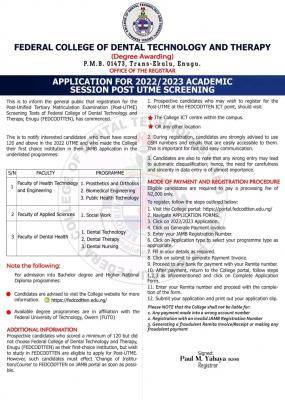 Faculty of Health Technology
1. Prosthetics and orthotics and Engineering
2. Biomedical Engineering
3. Public Health Technology Faculty of Applied Sciences
1. Social Work
3. Faculty of Dental Health Dental Therapy
Dental Nursing. Dental Technology Note the following: For admission into Bachelor's degree and Higher National Diploma programs: Candidates are advised to visit the College website for more information. https://fedcodtten.edu.ng/ Available degree programs are in affiliation with the Federal University of Technology, Owerri
(FUTO) ADDITIONAL INFORMATION Prospective candidates who scored a minimum of 120 but did not choose Federal College of Dental Technology and Therapy, Enugu (FEDCODTTEN) as their First choice institution, but wish to study in FEDCODTTEN are eligible to apply for Post-Utme however such candidates must effect a change of institution/course to FEDCODTTEN on JAMB portal as soon as possible 1. Prospective candidates who may wish to register for the Post-UTME at the FEDCODTTEN ICT point should visit:
1. The College ICT centre within the campus.
2. OR any other location
2. During registration, candidates are strongly advised to use GSM numbers and emails that are easily accessible to them. This is important for fast and easy communication.
3. Candidates are also to note that any wrong entry may lead to Automatic disqualification hence the need for carefulness and sincerity in data entry is of utmost importance
MODE OF PAYMENT AND REGISTRATION PROCEDURE
Eligible candidates are required to pay a processing fee of N2,000 only. To register, follow the steps outlined below:
Visit the College portal: https://portal.fedcodtten.edu.ng/Modules/Applications/Landing.aspx
2. Navigate APPLICATION Forms
3. Click on 2022/2023 Application
4. Click on Generate payment invoice
5. Enter your JAMB registration number
6. Click on application type to select your program type as appropriate
7. Fill in your details as required.
8. Click on submit to generate a Payment Invoice.
9. Proceed to any bank for payment with your Remita number.
10. After payment, return to the college portal, follow steps 1,2,3 as aforementioned and click on Complete Application Form.
11. Enter your Remita number and proceed With the completion of the form.
12. Print out your application slip after submitting your application. Please be aware that the College is not responsible for any of the following: 1. Payments made to the incorrect account number 2. Using an erroneous JAMB registration number 3. creating an unauthorized Remita invoice or receipt or making an unauthorized payment. Signed Registrar Paul M. Yahaya. FEDCODTTEN Releases 2022/2023 Post-UTME Admission Form