Federal University of Technology Babura Announces 2022/2023 Registration For Admission; This is an invitation to register for the Post-UTME Screening as described below for all applicants seeking admission to the Federal University of Technology Babura for the 2022–2023 academic session.
HAVE YOU USED OUR JAMB TOOL YET? IT PROVIDES YOUR JAMB COMBINATION FOR FREE
ELIGIBILITY FOR THE SCREENING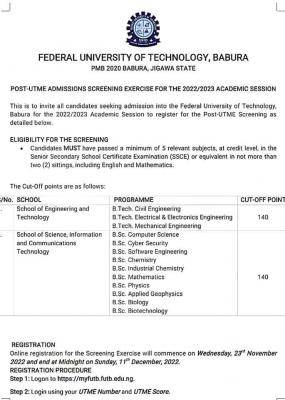 Candidates MUST have passed the Senior Secondary School Certificate Examination (SSCE) or an equivalent exam with at least 5 relevant subjects—including English and Mathematics—at the credit level in no more than two (2) sittings.
The Cut-Off points are as follows:
School of Engineering and Technology – 140
B.Tech. Civil Engineering
B.Tech. Electrical & Electronics Engineering
B.Tech. Mechanical Engineering
School of Science, Information and Communication Technology – 140
B.Sc. Computer Science
B.Sc. Cyber Security
B.Sc. Software Engineering
B.Sc. Chemistry
B.SC: Industrial Chemistry
B.Sc. Mathematics
B.Sc. Physics
B.Sc. Applied Geophysics
B.Sc. Biology
B.Sc. Biotechnology
REGISTRATION
Online registration for the Screening Exercise will commence on Wednesday, 23 November 2022 and end at Midnight on Sunday, 11th December, 2022.
REGISTRATION PROCEDURE
Step 1:Logon to https://myfutb.futb.edu.ng.
Step 2: Login using your UTME Number and UTME Score
Step 3: Update your contact details for generating Remita Payment.
Step 4: Remita Retrieval Reference (RRR) will automatically be generated for you
Step 5: You can pay in any of Remita's payment options. Clicking "Pay Now' to open thepayment dialog, OR click on "Generate Payment Schedule" to generate, download and print a payment schedule that contains all the necessary information needed at a Bank or Remitawebsite.
Step 6: After successful payment, you can update your UTME details.
Step 7: Upload your passport-sized photograph.
Step 8: Update your 0′ level examinations, maximum of 2-sittings.
Step 9: Upload electronic copies of your O' level results and UTME result slip.
Step 10: Generate, download/print the acknowledgment slip to complete your registration.
NOTE:
If you have any inquiries or are encountering any difficulty, send an email to enquiries@futb.edu.ng
Signed:
Fatima Binta Mohammed
Registrar
Federal University of Technology Babura Announces 2022/2023 Registration For Admission