FEDPOLY ILEOLUJI Releases 2022/2023 HND Admission Form; For admission to its full-time Higher National Diploma (HND) Programs for the academic year 2022–2023, Federal Polytechnic Ile–Oluji in the state of Ondo is inviting applications from qualified individuals.
HAVE YOU USED OUR JAMB TOOL YET? IT PROVIDES YOUR JAMB COMBINATION FOR FREE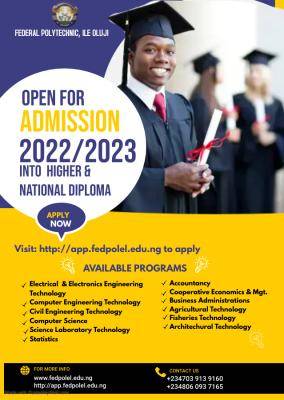 HND ADMISSION REQUIREMENTS
Computer Engineering Technology, Electrical/Electronic Engineering Technology (Electrical/Telecommunications Option), Electrical/Electronic Engineering Technology (Power/Machines Option), Computer Science, Statistics, and Accountancy are among the HND Programs for which approval was granted.
SSCE/ JAMB entry requirements for the corresponding National Diploma Programmes as published in the current JAMB Brochure.
Relevant National Diploma at not below LOWER CREDIT Grade.
Must have completed the mandatory one-year Industrial Training program with at a minimum of Lower Credit Grade and candidates with a Pass Grade and who must have completed their two-year Industrial Training program
Applicants are to pay a fee of Ten Thousand Naira (N10,000.00), Payment can be made online or in the bank.
Candidates should visit the Polytechnic portal at
https://app.fedpolel.edu.ng/appsignup and follow the instructions to complete the online application form and submit
Thanks for reading FEDPOLY ILEOLUJI Releases 2022/2023 HND Admission Form