FSS Oyo Releases 2022/2023 HND/PPD/PG/PGD (GIS) Forms; For admission to Higher National Diploma (HND), Pre-Professional Diploma (PPD), Professional Diploma (PD), and Postgraduate Diploma (PGD) Programs for the 2022–2023 Session, applications are being accepted from applicants who have the necessary qualifications.
HAVE YOU USED OUR JAMB TOOL YET? IT PROVIDES YOUR JAMB COMBINATION FOR FREE
Registration is online and starts on 31st October 2022.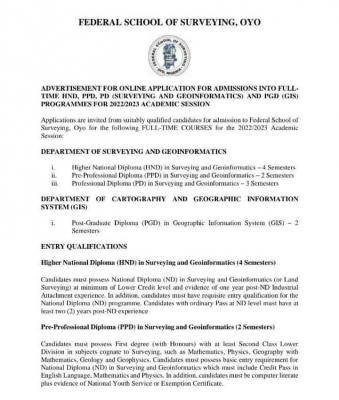 APPLICATION PROCEDURES (FSS Oyo Releases 2022/2023 HND/PPD/PG/PGD (GIS) Forms)
1. Visit the School Admission Portal at https://applications.fss-oyo.edu.ng/
ii. Click on Start a Fresh Application. This takes you to a page where you select your application type and fill in your bio-data.
iii. Once that has been filled, check the terms and conditions box and click on continue. Note: You will not be able to update your names after submitting this page
iv. You will be directed to the Payment Voucher Page and you will get an email notifying you of your application and a pdf copy of your payment advice.
v. Click on Pay Online and you will be directed to the payment page.
vi. Once payment has been confirmed, go back to the homepage und click on continue application
vil. This takes you to a new page.
viii. Enter your Reference number/ UTME No which was provided on your payment advice and continue.