KASU Releases 2021/2022 Diploma & Certificate Admission Forms; The online application period for the Institute of Education's Diploma and Certificate programs for the 2021–2022 academic session will begin on Tuesday, November 1, and close at midnight on Monday, November 20, Kaduna State University desires to inform interested applicants and the general public.
HAVE YOU USED OUR JAMB TOOL YET? IT PROVIDES YOUR JAMB COMBINATION FOR FREE
The following courses are open for application: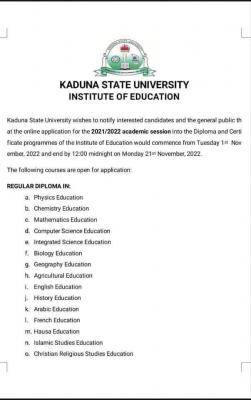 REGULAR DIPLOMA IN:
a. Physics Education
b. Chemistry Education
c. Mathematics Education
d. Computer Science Education
e. Integrated Science Education
f. Biology Education
g. Geography Education
h. Agricultural Education
i. English Education
j. History Education
k. Arabic Education
l. French Education
m. Hausa Education
n. Islamic Studies Education
o. Christian Religious Studies Education
p. Political Science Education
q. Mass Communication Education
r. Business Education
s. Economics Education
t. Library and Information Science Education
u. Guidance and Counselling Education
CERTIFICATE COURSES IN:
a. Principles and Techniques of International Language Translations in:
i. French to English and Vice-versa
ii. Arabic to English and Vice-versa
iii. Hausa to English and Vice-versa
b. Certificate in Arabic and French Languages
c. Principles and Practice of:
i. Islamic Religious Preaching
II. Christian Religion Preaching
Interested candidates are to pay the sum of N10,000.00 (all charges inclusive) as processing fees on the University's website https://forms.kasu.edu.ng
APPLICATION GUIDELINES
Visit the website from your computer or any mobile device
Click to 'Register Now' and select 'Diploma' or 'Certificate' from the available list
Fill in the required field to create an account
Login to your email to obtain login details
Log in again to the forms.kasu.edu.ng using details above and proceed with your application and wait for 15 minutes
Click on the link 'Proceed with Payment to generate your payment details
Click 'Pay via Interswitch' at the top of the page
Proceed with payment
After Successful Payment, Logout of your account & login after 10 minutes to continue with your registration.
REQUIREMENTS
The Senior Secondary School Certificate Examination (SSCE), administered by the West African Examination Council (WAEC), the National Examination Council (NECO), the National Business and Technical Board (NABTEB), or the National Board for Arabic and Islamic Studies (NBAIS), in not more than two (2) sittings, requires prospective candidates to have a minimum of five (5) relevant passes at credit level, including a pass at credit level in English and mathematics.
For more enquiries or complaints, please send an email to: support@kasu.edu.ng