Kogi State College Of Education Releases 2022/2023 Degree Admission Form; This is to let the general public know that the application period for the degree program at Kogi State College of Education, Ankpa, which is affiliated with ATBU, Bauchi, has opened.
Related; Kogi State College Of Education Ankpa Releases Part-Time NCE & Pre-NCE Admission Form for 2022/2023
The College, runs a-four year Bachelor of Technology (B.TECH) Degree Programme in Science Education and Vocational Technology Education in affiliation with Abubakar Tafawa Balewa University, Bauchi, in the following areas: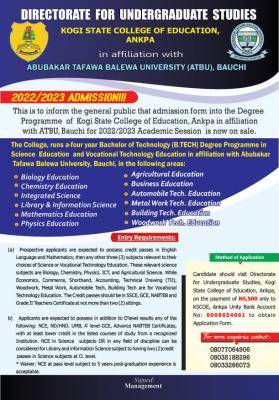 Agricultural Education
Business Education
Automobile Tech. Education
Biology Education
Chemistry Education
Integrated Science
Library & Information Science Metal Work Tech. Education
Mathematics Education
Physics Education
Building Tech Education
Woodwork Tech Education
Entry Requirements:
(a) Prospective applicants must have passed English Language and Mathematics in addition to any additional three (3) subjects that are pertinent to their choice of Science or Vocational Technology Education. The sciences of biology, chemistry, physics, information technology, and agricultural science are all relevant. While shorthand, accounting, technical drawing, business, and economics (TD),
The vocational technology education fields of woodworking, metalworking, automotive technology, and building technology. The Grade II Teachers Certificate and SSCE, GCE, NABTEB, and other credit-bearing exams must be taken in no more than two (2) sittings. Kogi State College Of Education Releases 2022/2023 Degree Admission Form
b) Applicants must have at least lower credit in the listed courses of study from an accredited institution in addition to their O'level results from any of the following: NCE, ND/HND, IJMB, A' level GCE, and Advance NABTEB Certificates. Subject to obtaining two (2) credit passes in science subjects at O. level, NCE in science subjects OR in any other field of study may be taken into consideration.
Waiver: NCE at pass level subject to 5 years post-graduation experience is acceptable
Method of Application
Candidate should visit Directorate for Undergraduate Studies, Kogi State College of Education, Ankpa,on the payment of N5,500 only to KSCOE, Ankpa Unity Bank Account No: 0008654061 to obtain Application Form.