TASUED Releases 2022/2023 Part-Time/Weekend Admission Form; The Centre for Part-time and External Programs (CEPEP) at Tai Solarin University of Education (TASUED) is accepting applications from qualified individuals for admission to its degree programs for the academic year 2022–2023.
HAVE YOU USED OUR JAMB TOOL YET? IT PROVIDES YOUR JAMB COMBINATION FOR FREE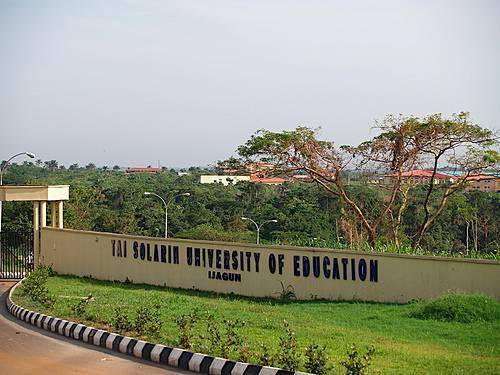 Available Courses
The following courses are available in the under-listed Colleges:
A. College of Specialized and Professional Education
B.Ed. Adult Education
B.Ed. Counseling Psychology
B.Ed. Early Childhood Education
B.Ed. Educational Management
B.Ed. Educational Technology
Library & Information Science
B. College of Vocational and Technology Education
B.Sc. (Ed.) Agricultural Production and Management Science.
B.Sc. (Ed.) Business Education
B.Sc. (Ed.) Secretarial Administration.
B.Sc. (Ed.) Home Economics & Hotel Management.
B.Sc. (Ed.) Technical Education with options in: (i) Automobile Technology (ii)Metal (iii) Building (iv) Woodwork (v) Electrical/Electronics.
C. College of Humanities
A. (Ed.) History and Diplomatic Studies.
A. (Ed.) Christian Religious Studies.
A. (Ed.) Fine and Applied Arts.
A. (Ed.) Islamic Studies.
A. (Ed.) French.
A. (Ed.) English Studies.
A. (Ed.) Yoruba.
D. College of Sciences and Information Technology
B.Sc. (Ed.) Computer Science.
B.Sc. (Ed.) Biology.
B.Sc. (Ed.) Physics.
B.Sc. (Ed.) Mathematics.
B.Sc. (Ed.) Chemistry.
B.Sc. (Ed.) Human Kinetics.
B.Sc. (Ed.) Health Education
E. College of Social and Management Sciences
B.Sc. (Ed.) Economics.
B.Sc. (Ed.) Political Science.
B.Sc. (Ed.) Geography & Environmental Management.
B.Sc. (Ed.) Social Studies.
B.Sc. (Ed.) Transport Planning and Management.
General Admission Requirements
The admission requirements for Part-Time Bachelor's Degree Programme for both 100L and Direct Entry Candidates are as follows:
5 YEARS PROGRAMME
WAEC/NECO Senior School Certificate (SSCE), General Certificate of Education Ordinary Level (GCE O'Level) or their equivalents with credits in five (5) subjects obtained at not more than two sittings and National Technical Certificate/National Business Certificate (NTC/NBC) for Vocational courses only.
DIRECT ENTRY: 4 YEARS PROGRAMME (Vacation and Weekend)
GCE A'Level with passes in two subjects, the Nigeria Certificate in Education (N.C.E.) with at least Merit in two core topics, and an OND/HND (for some courses) in pertinent fields with at least Lower Credit. In addition to (1) above, Joint Universities Preliminary Examination Board (JUPEB) with passes in at least two subjects and a Cambridge (A' level) Certificate with passes in at least two subjects are prerequisites for Direct Entry. Only the Advanced National Technical/Business Certificate (ANTC, ANBC) in addition to the one mentioned above is accepted for vocational courses.
* A credit in O'Level English language is required for all courses.
Special Courses Requirements.
A credit in O'Level Mathematics is required for all Sciences, Vocational and Technical and Social Science-based courses.
Credit in Literature in English is required for English Language.
A credit in at least one science subject is required for Mathematics.
Candidates wishing to study Educational Management should have obtained credit in English Language, Mathematics and Economics at the Ordinary Level.
Credits in any two (2) of Geography, Economics, Government, Commerce, Christian Religious Knowledge, Islamic Religious Knowledge, History and Yoruba are acceptable for the study of Social Studies.
Candidates wishing to study Counseling Psychology with teaching subject options in science and social sciences must have credit in Mathematics
METHOD OF APPLICATION INTO THE TASUED ADMISSION PROGRAMME
Go to https://my.tasued.edu.ng/admission/pros/create_account.php?appbatchid=99 
1. Apply for the Admissions process by clicking Apply Now on an open Application. You will be required to fill an account profile creation form
(Please fill the form correctly and supply a VALID EMAIL ADDRESS and PHONE NUMBER because your login details will be sent to whatever email address you provided)
2. To proceed with your application, you will need to activate your profile account. Check your email inbox (or Spam) for your activation link and your LOGIN credentials.
3. If you had already created an account or you are a formal student of this Institution, Click Login to continue with your Application Form or apply for a new open Admission
4. Continue by paying the necessary fees and then carefully filling the Application Form. Check that all the information provided is correct and valid before submitting your application.
5. Obtain the appropriate Result Checker scratch (WAEC, NECO or NABTEB) to submit and verify your O'Level result using our Online Result Verification System.
6. Print a copy of the Application form and Screening Slip with the necessary information on it