UNIDEL releases 2022/2023 Pre-Degree Admission Form; Applications are invited from suitably qualified candidates for admission into the University of Delta Agbor's Underlisted Pre-degree Programmes leading to Admission into the 100level of Bachelor Degree for the 2022/2023 Academic Session.
Recommended; UNIDEL Releases 2022/2023 Post-UTME Admission Form
HAVE YOU USED OUR JAMB TOOL YET? IT PROVIDES YOUR JAMB COMBINATION FOR FREE
COURSES AVAILABLE;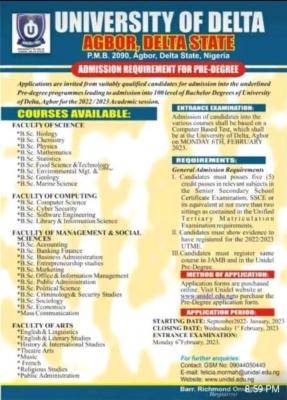 FACULTY OF SCIENCES:
B.Sc Biology
B.Sc Chemistry 
B.Sc Environmental Science and Toxicology
B.Sc Mathematics
B.Sc Statistics
B.Sc Physics
B.Sc Geology
B.Sc Marine science
FACULTY OF MANAGEMENT AND SOCIAL SCIENCES
B.Sc Banking and Finance B.Sc Accounting
B.Sc Economics
B.Sc Business Administration B.Sc Entrepreneurship
B.Sc. Sociology
B.Sc Criminology and Security Studies
B.Sc Psychology
B.Sc Political Science
B.Sc International Relations B.Sc Public Administration B.Sc Mass Communication 
FACULTY OF ARTS:
B.A English and Literary Studies
B.A Linguistics
B.A French
B.A History and International Studies
B.A Philosophy
B.A Christian Religious Studies
B.A Religious Studies
B.A Music
B.A Theatre Arts
FACULTY OF COMPUTING
B.Sc Computer Science
B.Sc Cyber Security
B.Sc Software Engineering
B.Sc Library and Information Science
ENTRANCE EXAMINATION
Admission of candidates into various courses shall be based on a Computer Based Test(CBT) which shall be at the University of Delta, Agbor on Monday 6th February 2023
GENERAL ENTRY REQUIREMENTS:
I. Candidates must have five (5) credit passes in the relevant subjects in the SSCE, NECO, or GCE O/L Examinations in no more than two sittings, in addition to meeting other Matriculation requirements.
ii. Candidates must show evidence to have registered for the 2022/2023 UTME
iii. Candidates must register same course in JAMB and in the Unidel Pre-degree
METHOD OF APPLICATION
Interested candidates are to visit the university website to purchase the Pre-degree online application form
APPLICATION PERIOD
Starting date: September 2022 – January 2023
Closing date: Wednesday 1st February 2023
Entrance Examination Date: Monday 6th February 2023
UNIDEL releases 2022/2023 Pre-Degree Admission Form