UNILORIN SUG Notifies New Students On Registration; Freshmen students are now obliged to register for courses prior to paying school fees. The standard courses that were listed on the university portal are what the students are expected to choose. Additionally, they should be aware that any mistakes made during course registration will have time to be corrected once the session starts.
HAVE YOU USED OUR JAMB TOOL YET? IT PROVIDES YOUR JAMB COMBINATION FOR FREE
However, those who have paid without course registration are charged to remain calm as they will be allowed to do that upon resumption.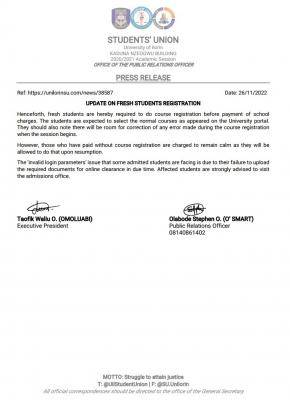 The 'invalid login parameters' issue that some admitted students are facing is due to their failure to upload the required documents for online clearance in due time. Affected students are strongly advised to visit the admissions office.