UNIZIK Releases 2022/2023 Post-UTME/DE Admission Form; For candidates who selected Nnamdi Azikiwe University, Awka as their top choice in the 2022 Unified Tertiary Matriculation Examination (UTME) and Direct Entry (D/E), as well as all Nnamdi Azikiwe University Affiliate Institutions, the university has scheduled its 2022/2023 POST-UTME and DIRECT ENTRY screening exercise.
HAVE YOU USED OUR JAMB TOOL YET? IT PROVIDES YOUR JAMB COMBINATION FOR FREE
ELIGIBILITY
1. Candidates who chose Nnamdi Azikiwe University, Awka, or its affiliate institutions as their first choice and have the required cut-off mark are eligible to apply.
2. Candidates who did not choose NAU as their first choice university but scored the eligible cutoff marks of any faculty/program can also apply on the condition that they visit the JAMB website for a change of institution.
3. Direct Entry candidates must be holders of OND/HND/First Degree or A'Level in relevant disciplines and subjects.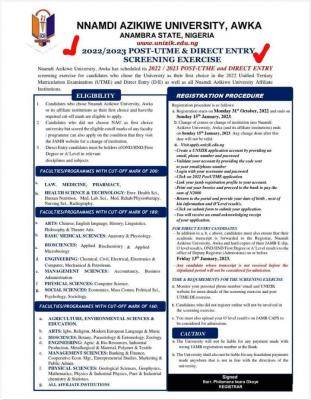 FACULTIES/PROGRAMMES WITH A CUT-OFF MARK OF 200
a. LAW, MEDICINE & SURGERY, PHARMACY
b. HEALTH SCIENCE & TECHNOLOGY: Envr Health Science, Human Nutrition, Med. Lab Science, Med. Rehab/physiotherapy, Nursing Science, Radiography.
FACULTIES/PROGRAMMES WITH CUT-OFF MARK OF 180

a. ARTS: Chinese, English Language, History, Linguistics, Philosophy and Theater arts.
b. BASIC MEDICAL SCIENCE: Anatomy and physiology
c. BIOSCIENCES: Applied Biochemistry, Applied Microbiology.
d. ENGINEERING: Chemical, Civil, Electrical, Electronics & Computer, Mechanical & Petroleum
e. MANAGEMENT SCIENCES: Accountancy, Business Administration
f. PHYSICAL SCIENCES: Computer Science
g. SOCIAL SCIENCES : Economics, Mass communication, political science, psychology, sociology.
FACULTIES/PROGRAMMES WITH CUT-OFF MARK OF 160

a. AGRICULTURE, EDUCATION, ENVIRONMENTAL SCIENCES
b. ARTS: Igbo, religion, Modern European language and Music
c. BIOSCIENCES: Botany, Parasitology & Entomology, zoology
d. ENGINEERING: Agric & Bio-Resources, Industrial Production, Metallurgical & Material, Polymer & Textile
c. PHYSICAL SCIENCES: Chemistry, Geological Science, Geophysics, Mathematics, Physics and
Industrial Physics, Pure & Industrial Chemistry, Statistics.
d. All Affiliate Institutions.
REGISTRATION PROCEDURES
Registration procedure is as follows:
a. Registration starts on 31st October 2022 and ends on 15th January, 2023
b. Change of course or change of institution into Nnamdi Azikiwe University, Awka (and its affiliate institutions) ends on 15th January, 2023 Any change done after this date will not be valid.
c. – Visit apply.unizik.edu.ng
– Create a UNIZIK application account by providing an email, phone number and password
– Validate your account by providing the code sent to your email/phone number
– Login with your username and password
– Click on 2022 PostUTME application
– Link your jamb registration profile to your account.
– Print out your Invoice and proceed to the bank to pay the sum of N2000
– Return to the portal and provide your date of birth with next of kin information
– Click on submit form to submit your application.
– You will receive an email acknowledging receipt of your application
FOR DIRECT ENTRY CANDIDATES
Candidates must additionally send physical copies of their JAMB E slip, O' level results, OND/HND/First Degree or A'Level results to the office of Deputy Registrar (Admissions) on or before January 13, 2023, in addition to the requirements listed in points a, b, and c above.
– Any candidate whose transcript is not received before the stipulated period will not be considered for admission
TIME AND REQUIREMENTS FOR THE SCREENING EXERCISE
a. Monitor your personal phone number/ email and UNIZIK website for more details of the screening exercise and the Post UTME/DE  exercise.  
b. Candidates who did not register online will not be involved in the screening exercise.
c. You must also upload your O'level results on JAMB CAPS to be considered for admissions.
CAUTION
Any payment made at the bank using the incorrect JAMB registration number will not subject the university to liability. Additionally, the University will not be held responsible for any fraudulent payments made anywhere that do not follow its rules.