Yabatech Instructs All Staffs And Students To Compulsorily Wear ID Cards; In order to have a complete and impenetrable security measure, it has become essential to take some preventative action with the safety and security of faculty, staff, and students in mind.
HAVE YOU USED OUR JAMB TOOL YET? IT PROVIDES YOUR JAMB COMBINATION FOR FREE
Management has decided therefore to make the wearing of Identity Cards compulsory for both staff and students.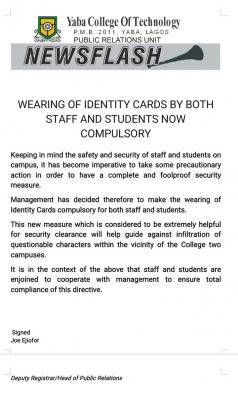 This new measure, which is thought to be very beneficial for security clearance, will assist prevent the infiltration of dubious characters near the College's two campuses.
Staff and students are urged to work with management to achieve complete compliance with this order in light of the aforementioned circumstances.
Signed
Joe Ejiofor