Yusuf Maitama Sule University Releases 2023/2024 IJMB Form; We would like to notify you that the Yusuf Maitama Sule University IJMB (Interim Joint Matriculation Board) form for the one-year program in the 2023/2024 session is currently available for purchase.
GAIN ADMISSION INTO ANY NIGERIAN UNIVERSITY WITHOUT JAMB – REGISTER FOR IJMB TODAY
Yusuf Maitama Sule University Releases 2023/2024 IJMB Form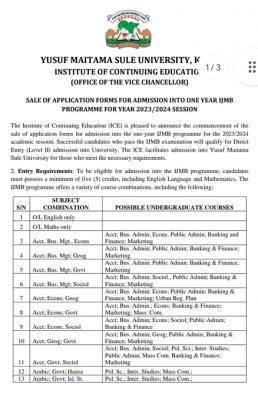 ENTRY REQUIREMENTS: To be eligible for admission into the IJMB programme, Candidates must possess Five (5) Credits including English Language and Mathematics
APPLICATION PROCEDURES: Prospective applicants are to visit the official website of the Yusuf Maitama Sule University at https://ymsuk.edu.ng and click on ICE Link to access the application portal
*Click on the Application
*Enter your valid Email Address
*Print your Payment Invoice
*Proceed to any Bank or use mobile transfer to make payment to the account below:
•Account Name: Yusuf Maitama Sule University
•Account Number:2027895303
•Bank Name: First Bank
•Amount to pay: Five Thousand Naira Only, (5,000.00)
*Return to the portal after Payment (for payment verification after 24hrs of payment)
*Click on Login, and use your Application Number and Email Address to complete Application Registration.
•APPLICATION DEADLINE: Friday, 30th June 2023
•Commencement of Lectures: The IJMB Programme is scheduled to commence on Monday, 3rd July 2023.
The PDF file provided below contains all you need to know including all the IJMB Programmes offered at the Yusuf Maitama Sule University. You are advised to get a copy.
For more enquiries contact 08122302555,08037806234. Kindly note that the ICE will only address issues within the stipulated dates and will not entertain any inquiries outside of the Timeframe.
Thank you!