Delta State University of Science & Tech Ozoro Releases 2022/2023 Pre-degree Admission Form; For admission into the below-listed Pre-Degree Programs leading to admission into 100L of Bachelor degrees at the Delta State University of Science and Technology, Ozoro for the 2022/2023 Academic Session, applications are being accepted from adequately qualified individuals.
HAVE YOU USED OUR JAMB TOOL YET? IT PROVIDES YOUR JAMB COMBINATION FOR FREE
LIST OF AVAILABLE PRE-DEGREE COURSES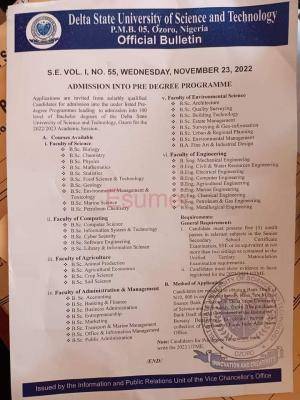 i. Faculty of Science
B.Sc. Biology
B.Sc. Chemistry
B.Sc. Physics
B.Sc. Mathematics
B.Sc. Statistics
B.Sc. Food Science & Technology
B.Sc. Geology
B.Sc. Environmental Management & Toxicology
B.Sc. Marine Science
B.Sc. Petroleum Chemistry
ii. Faculty of Computing
B.Sc. Computer Science
B.Sc. Information System & Technology
B.Sc. Cyber Security
B.Sc. Software Engineering
B.Sc. Library & Information Science
ill. Faculty of Agriculture
B.Sc. Animal Production
B. Agricultural Economics
B.Sc. Crop Science B.Sc. Soil Science
iv. Faculty of Administration & Management
B.Sc. Accounting
B.Sc. Banking & Finance
B.Sc. Business Administration
B.Sc. Entrepreneurship
B.Sc. Marketing
B.Sc. Transport & Marine Management
B.Sc. Office & Information Management
B.Sc. Public Administration
Faculty of Environmental Science
B.Sc. Architecture
B.Sc. Quantity Surveying
B.Sc. Building Technology
B.Sc. Estate Management
B.Sc. Surveying & Geo-informatics
B.Sc. Urban & Regional Planning
B.Sc. Environmental Management
BA Fine Arts & Industrial Design
vi. Faculty of Engineering
B.Eng Mechanical Engineering
B.Eng. Civil & Water Resources Engineering
B.Eng. Electrical Engineering
B.Eng Computer Engineering
B.Eng. Agricultural Engineering
B.Eng. Marine Engineering
B.Eng. Chemical Engineering
B.Eng. Petroleum & Gas Engineering
B.Eng Material & Metallurgical Engineering
Requirements:
General Admission Requirements
I. Candidates must possess five (5) credit passes in relevant subjects in the Senior Secondary School Certificate Examination, SSCE or its equivalent at not more than two sittings as contained in the Unified Tertiary Matriculation Examination requirements,
ii. Candidates must show evidence to have registered for the 2023/2024 UTME
Method of Application
Candidates are required to obtain a Bank Draft of N10,000 in any deposit money Bank, not Micro Finance Bank in favour of Delta State University of Science and Technology, Ozoro. The purchased Bank Draft should be tendered at the Institution Bursary Department to obtain receipt and collection of the Application Form from the Admission Office.
Note: Candidate for Pre-Degree Programme must write 2023 UTME.