EBSU Releases 2022/2023 Postgraduate Admission Form; The administration of Ebonyi State University is presently accepting applications from qualified individuals for its postgraduate programs in 2022 and 2023, which will result in the awarding of Ph.D., M.Sc., MPA, PGD, PGDE, PGDN, MILD, and LLM degrees.
HAVE YOU USED OUR JAMB TOOL YET? IT PROVIDES YOUR JAMB COMBINATION FOR FREE
The EBSU School of Postgraduate Studies admission requirements must be satisfied by all candidates seeking for admission into any of the Postgraduate programs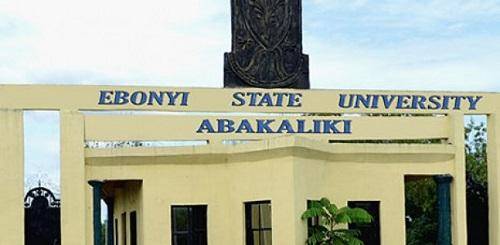 For all programs, all applicants to EBSU SPGS must have at least a credit pass in Olevel English Language. All applicants for programs in the medical and paramedical sciences, pure and applied sciences, and science-related fields (such as education and agriculture), must have at least a credit pass in mathematics. Candidates applying for a postgraduate degree in the humanities, social sciences, or law, however, may be taken into consideration with a passing grade in mathematics. However, exceptional exemptions exist for courses like banking and finance, accounting, and economics, which call for a credit pass of 2.3 in O'Level mathematics.
A. Postgraduate Diploma (PGD)
An applicant for admission into any course of study leading to a Postgraduate Diploma of Ebonyi State University shall be;
A holder of a Bachelor's degree of Ebonyi State University or other institutions recognized by the Senate; or
A holder of the Higher National Diploma (HND) passed at upper credit level in a related discipline; or
Holders of a third-class degree in an area shall normally be admitted to the PGD Programmes. However, the candidate shall not have a CGPA below 2 on a 5-point grade scale.
Holder of Higher National Diploma (HND) passed at Lower Credit Level in a related discipline with relevant work experience of 3 years.
B. Master of Science (MSc)
Graduates of Ebonyi State University or graduates from other approved universities who have obtained the appropriate degree with at least a good second-class honours or its equivalent;
Candidates for admission to the Master's Programs must hold an EBSU Postgraduate Diploma or a PGD from another accredited university and have a cumulative GPA (CGPA) of at least 2.5 on a scale of 1 to 5 or a 60% average.
C. Doctor of Philosophy (Ph.D)
The following people are eligible to apply for temporary registration as candidates for the doctor of philosophy degree under consideration. graduates with the Master's degree necessary for the intended study from accredited universities. A candidate who wants to transfer from a master's program into a PhD program must have a cumulative grade point average (CGPA) of at least 3.50 on a 5-point scale.
How to Apply for EBSU Postgraduate Admission
Application forms are available for sale online at the cost of Ten Thousand Fifty Naira (N 10,050.00) only, while appropriate administrative charges will apply.
All interested applicants should visit the University portal to apply