FUTO Releases 2022/2023 Pre-Degree Admission Form; Applications are being accepted from applicants who meet the requirements for admission to the federal university of technology in Owerri's pre-degree program.
HAVE YOU USED OUR JAMB TOOL YET? IT PROVIDES YOUR JAMB COMBINATION FOR FREE
ADMISSION REQUIREMENTS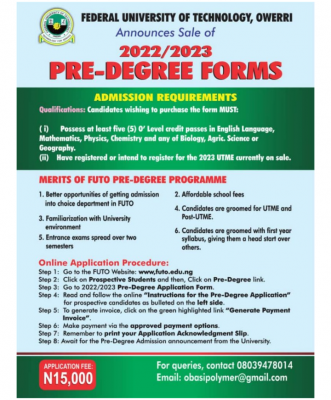 Qualifications: Candidates wishing to purchase the form MUST:
(i) Possess at least five (5) O' Level credit passes in English Language, Mathematics, Physics, Chemistry and any of Biology, Agric. Science or Geography
(ii) Have registered or intend to register for the 2023 UTME currently on sale.
MERITS OF FUTO PRE-DEGREE PROGRAMME
1. Better opportunities for getting admission into the choice department in FUTO
2. Familiarization with the University environment
3. Entrance exams spread over two semesters
4. Affordable school fees
5. Candidates are groomed for UTME and Post-UTME.
6. Candidates are groomed with first year syllabus, giving them a head start over others.
Online Application Procedure:
Step 1: Go to the FUTO Website: www.futo.edu.ng
Step 2: Click on Prospective Students and then, Click on the Pre-Degree link.
Step 3: Go to the 2022/2023 Pre-Degree Application Form.
Step 4: Read and follow the online "Instructions for the Pre-Degree Application" for prospective candidates as bulleted on the left side.
Step 5: To generate an invoice, click on the green highlighted link "Generate Payment Invoice"
Step 6: Make payment via the approved payment options.
Step 7: Remember to print your Application Acknowledgment Slip.
Step 8: Await for the Pre-Degree Admission announcement from the University.
APPLICATION FEE N15,000
For queries, contact 08039478014 Email: obasipolymer@gmail.com