LASUTH 2nd Set Releases 2022/2023 Admission Into School Of Anaesthetic Technology; The School of Anaesthetic Technology at the Lagos State University Teaching Hospital (LASUTH), Ikeja, has announced the admission of a second group of students for the purpose of educating anaesthetic technicians. This is for the academic year 2022–2023.
HAVE YOU USED OUR JAMB TOOL YET? IT PROVIDES YOUR JAMB COMBINATION FOR FREE
ENTRY REQUIREMENT (APPLICANTS MUST HAVE/POSSESS)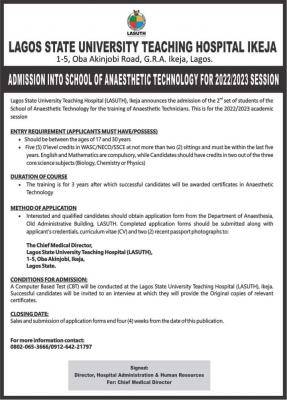 Should be between the ages of 17 and 30 years
• Five 0'level credits in the last five years from WASC, NECO, or SSCE, taken at no more than two (2) sittings each. Candidates must have credits in both English and mathematics, and they must also have credits in two of the three primary science topics (Biology, Chemistry or Physics)
DURATION OF COURSE
The training is for 3 years after which successful candidates will be awarded certificates in Anaesthetic Technology
METHOD OF APPLICATION
• An application form is available at the Department of Anaesthesia, Old Administrative Building, LASUTH, for those who are interested and qualified. The applicant's qualifications, curriculum vitae (CV), and two (2) current passport photos should be sent to: with the application form completed.
The Chief Medical Director,
Lagos State University Teaching Hospital (LASUTH).
1-5, Oba Akinjobi, Ikeja, Lagos State.
CONDITIONS FOR ADMISSION:
In Ikeja, at the Lagos State University Teaching Hospital (LASUTH), a computer-based test (CBT) will be administered. Successful applicants will receive an invitation to an interview where they must bring original copies of any pertinent certificates.
CLOSING DATE:
Sales and submission of application forms end four (4) weeks from the date of this publication.
For more information contact: 0802-065-3666/0912-642-21797