UNIABUJA Releases 2022/2023 Remedial Admission Form; Applications are being accepted from qualified individuals for admission to the University of Abuja's one (1) year remedial science program for the 2022–2023 academic year.
HAVE YOU USED OUR JAMB TOOL YET? IT PROVIDES YOUR JAMB COMBINATION FOR FREE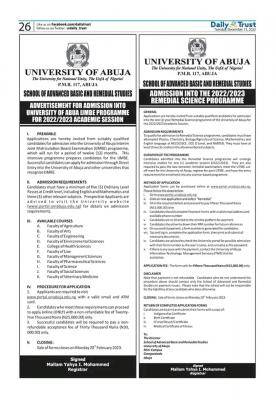 Admission requirements
Candidates must have attempted Physics, Chemistry, Biology/Agricultural Science, Mathematics, and English Language in NECO/SSCE, GCE O'level, and NABTEB in order to be admitted to the Remedial Science Program. The aforementioned subjects must account for at least 3 of their total credits.
Duration of the programme 
For one (1) academic session (2022/2023), candidates accepted into the remedial science program will engage in intensive study. They must also fulfill the admission requirements for enrollment in any science-based program, pass the two-semester Remedial test, meet the UTME cut-off point for the University of Abuja, register for the Post-UTME, and pass the two-semester Remedial exam.
Method of Application
Applications forms can be obtained online at https://portal.uniabuja.edu.ng/index.php
Click on new applications and select Remedial
Fill in the required details and proceed to pay Fifteen Thousand Naira (15,000.00) only
Candidates should complete payment forms with a valid email address and available phone number
Candidates should write their RRR Number for future reference
On successful payment, a Form number is generated for candidates
Tap and log in and complete the application form, then print and submit all necessary documents.
Candidates are advised to check the University portal for possible admission with their phone number as username and surname as password 
If there is any issue with the payment, contact uniabuja information Technology Management unit for assistance
Application Fee: The form sells for Fifteen Thousand Naira (15,000.00) only
Disclaimer: Note that the payment is not refundable
Closing: The sale of forms closes Monday 20th February 2023.